[English Version Below: « Definition of Done (DOD)… or when the « Go Live » sounds like fingers in the nose »]
Bob: « Voilà j'ai terminé de développer ce module, c'est déployé ! »
Gérard: « Ben je vois rien…? »
Bob: « Ha en tout cas chez moi ça marche… »
Allez, avouez…vous avez déjà tous vécu ce drame non ? 🙂
Une des choses que j'aime dans Scrum, et c'est selon moi une de ses plus grandes forces ! C'est que quand une tâche, ou disons une User Story, est terminée…et bien elle est vraiment terminée. Dans le cas d'un projet IT, j'entends par là que c'est développé, testé, documenté, déployé sur le serveur de test etc… C'est ce que l'on appelle en Agile le Definition of Done (DOD). Le principe est simple pour mettre une User Story dans la colonne « Done » du tableau, il « suffit » que tous les critères du DOD soient remplis.
On utilise parfois le terme de « Production Ready », c'est à dire qu'une fois votre User Story terminée et validée par le client, elle peut être potentiellement mise en production. Plus aucune action n'est nécessaire.
Documentation
Concernant la gestion de la documentation nous essayons d'appliquer certains principes « Lean » à savoir ne produire que des documents à haute valeur ajoutée. Bien souvent nous arrivons à transformer la question « avez-vous de la documentation ? » en « mais que recherchez-vous comme information ? ». Ensuite nous fournissons l'information. L'idée est de ne pas passer des dizaines de jours à produire des documents rapidement dépassés. Attention ! Je ne fais pas le procès de la documentation elle est utile mais selon moi avec parcimonie. En écrivant ce paragraphe je me rends compte que cette seule problématique pourrait faire l'objet de plusieurs articles.
Tout ça pour vous dire que mon nouveau cheval de bataille pour la Doc c'est… l'utilisation de la vidéo. Personnellement j'utilise iShowU sur Mac qui permet de faire très simplement des vidéo de captures d'écran. J'y crois fermement: c'est rapide, plus amusant pour la personne qui doit prendre connaissance de la doc, plus facile à mettre à jour.
La mise en production
La plus grosse claque que je me suis pris en utilisant Scrum c'est à quel point la mise en production a été …. cool ! Oui vous lisez bien. En fait, vu que nous respections le DOD, vu que chaque mois nous faisions une Démo au client, la mise en production n'a été…qu'un sprint de plus. Vu que les procédures de déploiement étaient utilisées à chaque sprint, la mise en production a été un simple déploiement sur un autre serveur.
Bon maintenant je ne vais pas vous mentir… le jour de la mise en production mon pouls bat toujours plus vite et je m'attends à ce qu'il y ait des problèmes. Notre mise en production a quand même pris quelques heures et nécessité un ou deux légers ajustements manuels. Mais en toute sincérité, en plus de 10 ans de carrière, je n'avais jamais eu de mise en production aussi calme…et je dois dire que ce n'était pas pour me déplaire.
Capitaliser sur les tests
Plusieurs points du DOD portent sur le testing, l'avantage d'écrire les tests au fur et à mesure est qu'au moment de la mise en production vous avez un énorme « set » de tests qui peuvent vous donner un bon indicateur de la qualité de la release. De plus pour les releases suivantes, nous disposons d'autant de tests de régression. A ce sujet je voudrais remercier l'équipe avec qui j'ai travaillé car pour la première fois je n'ai pas dû « négocier » le fait qu'il fallait faire des tests. Un membre de l'équipe avait même mis au point un système obligeant que tous les tests soient « vert » à chaque commit…oui nous sommes de vrais psychopathes 🙂
En conclusion, Le DOD est un document à faire vivre tout au long du projet, dans l'exemple de DOD que vous trouverez au bas de cet article vous verrez que l'on a rajouté certaines choses en cours de projet (attribution des droits utilisateurs et gestion des erreurs d'indisponibilité). Nous le considérons à ce point important que nous l'avons placé en plein milieu de Paul (C'est ainsi que nous appelons notre Tableau « Scrum »). Voir ci-contre.
Merci principalement à Bob et Gérard 😉
Bruno.
Voici un exemple de Definition of Done (ppt), n'hésitez pas à l'utiliser merci simplement de citer les crédits.
Definition of Done (DOD)… or when the « Go Live » sounds like fingers in the nose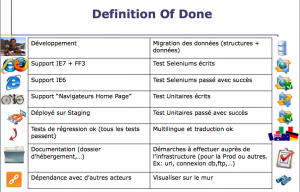 Bob: « Okay, this is it, i have finished developing this module. Deployment is done ! »
Gerard: « Well, I can't see nothing …? »
Bob: « On my workstation it works ! »
Come on, admit it … you've already lived such a drama isn't it ? 🙂
One of the things I like in Scrum, and it my opinion it is one of its greatest strengths! I like that, when you said that a task or a User Story is done … well it is really done. In the case of an IT project, done means that stuff is developed, tested, documented, deployed on the test server etc. This is What Agile call the Definition of Done (DoD). The principle is simple: to switch a User Story in the column « Done » of the board, all the DOD criteria are met.
We sometimes use the term « Production Ready », meaning that once your User Story completed and validated by the client, it can potentially be put into production. No further action is required.
Documentation
Regarding the management of the documentation we try to apply some principles of « Lean ». I mean produce only documents with high added value. Often we can transform the question « do you have documentation? » in « what is you question ? What information are you looking for ? ». Then we provide the information. The idea is not to spend tens of days to produce documents quickly outdated. Warning! I'm not on trial with « doing documentation ». Documentation is useful but I think it is a means and not a goal to achieve. While i'm writing this paragraph I realize that this problem could be the subject of several articles.
Anyway the point is that i have a new crush about how we can do documentation… the use of video. Personally I use iShowU on the Mac that allows you to do video screenshots in a very simple way. I strongly believe in this: it is faster, more fun for the person who must « read » the document, easier to update.
The Go Live
The biggest slap that I receive using Scrum is how the production launch (i mean the go live) was …. cool! Yes you read it well. In fact, as we respect the DOD, as each month we did a demo to the client, the go live has been … just another sprint and no more. Since the deployment procedures were used for each sprint, the start of production was a simple roll on to another server.
Well now I will not lie to you … when the date of the go live comes close, my pulse start to beats faster and faster and I expect problems and bad surprises. Our production launch has nevertheless taken a few hours and needed one or two minor manual adjustments. But honestly, in more than ten years of my career, I had never a go live o easy … and I must say that this was not to displease me.
Capitalizing on tests
Several points of the DOD concern testing, the advantage of writing tests is simple… When you are ready to deploy, you have a huge « set » of tests that can give you a good indicator of the quality of the release. In addition, for the next versions of your software, you can still use the « old » tests for the regression testing. By the way, i would like to thank the team with whom I worked. For the first time I did not have to « negotiate » the fact that we must write tests. They were all a lot « quality minded ». A member of the team had even developed a system requiring that all tests must be « green » to each commit … yes we are true psychopaths 🙂
Finally, DOD is a living document and his lifetime is the time line of the project, in the example of DOD that you find at the bottom of this post, you will see that we added some things during the project (allocation of user rights and negative error handling). We consider that DOD is so much important that we placed it in the middle of Paul (So we call our « Scrum » Board). See picture.
I would like to thanks Bob and Gerard 😉
Bruno.
More info: Example of Definition Of Done (ppt): Feel free to use it, just give me some credits.
---