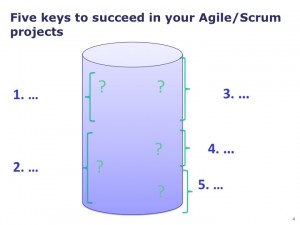 I'm for the moment working on a serie of posts. Theme will be: "Five keys to succeed in your Agile/Scrum projects".
The idea is to suggest five principles which, if implemented, will greatly increase your chances of success on a project using Scrum or methods Agile. Those posts will be based on various sources (training, coaching, feedback, lessons learned) . You can also apply these principles on a waterfall project using Prince2 or PMI.
Articles will cover Scrum principles, Agile principles but also other things like coaching principles or NLP concepts.