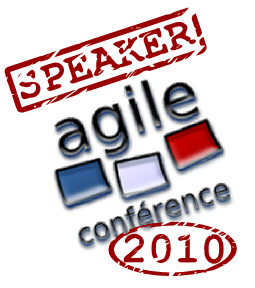 On May 31th and June 1st, the  French Agile Conference will take place in Paris. This Conference is formerly known as XP Days France.
I will be honoured to give a keynote named "Agile and NLP (Neuro-linguistic programming) The eyes, ears and feelings…"
A few words about this keynote: NLP is a new and "young" branch of psychology. NLP became famous because some Tv Series like CSI or The Mentalist speaks of it.
Far of the myths within those episodes, NLP is really a box of tools which will help you to succeed in your (Agile) Projects.
After a short introduction we will discuss the VAK concept, how we are influenced by the VAK. How it can help us to better communicate, give feedback, give recognition,and solve a problem.
All of this will be linked to Agile Methods.
About the Conference (Mainly French speaking)
Website: http://conf.agile-france.org/
Attend ? http://conf.agile-france.org/registration/
Program: http://conf.agile-france.org/schedule/
With the participation of Esther Derby, a worldwide recognized Agile community leader and author of the bestseller book "Agile Retrospectives"
Places are still available !
See you soon,
Bruno.
This content is published under the Creative Commons Attribution-Noncommercial-Share Alike 3.0 Unported license.