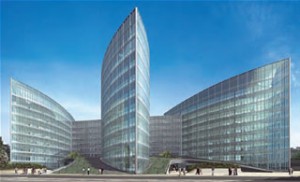 In a previous post I told you had a plan to give a presentation in Paris, march 30th. It was for the first birthday of the French Scrum User Group. Here's my feedback on this event.
I arrived in Paris around 4 p.m to avoid traffic jam, I was warmly welcomed by Xavier Warzee from Microsoft France. Microsoft was the sponsor of the evening and the event took place in their main offices in Paris. Xavier let me visit the place, all the offices, Tech-Rooms and let me "play" with the "Table-Surface".
Then around 6 p.m comes Luc Legardeur president of the French SUG, beginning of the organization and test of all rooms.  I was impressed by the Microsoft infrastructure. It's a real conference center with all you need. Four rooms with a nice "design", beamer, mic,… and even a "Keynote" room.
The event started with a presentation on the status of the French SUG, then a keynote of 45 min took place with Romain Pichler. Theme was "Product Owner Challenges or Grooming the Product Backlog". Interesting and Interactive, just the way I like it.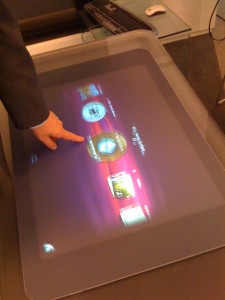 Then the different tracks started. 4 Rooms in the same time with different topics. My presentation was "How NLP (Neuro-Linguistic Programming) can help you on your Scrum Project". I'm very happy with this presentation, here my feedback.
Positive points
No logistic problem, an expert was available to help us (thanks!)
People were curious about the subject
Some people came to me after the presentation to know more
A participative audience
Top organization
Met people who want to develop skills
What can be improved ?
It was very frustrating not to have a "exchange" space after the presentation. Anyway i was able to continue discussion via email, mobile or skype
Plan time for question & answers
Being filmed
30 minutes is really short
I was the only one to have seen Percy Jackson…
So a very nice experience, i will maybe continue to give this presentation in other conferences but with a different content.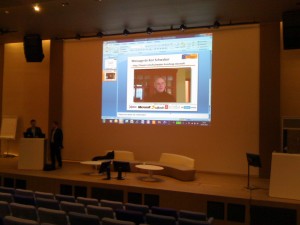 If you were there could you send me some feedbacks ?
Thanks in advance,
Bruno.
Below you will find the slides and some feedbacks.
Slides
Feedback
Antoine Vernois: "Merci Bruno.
J'ai vraiment apprécié ta présentation. J'ai découvert un domaine qui me semble pouvoir fournir des outils très utiles pour améliorer la communication dans une équipe."
Blog post in french about the evening
Whaly: Extra la présentation sur la PNL, une découverte qui m'a donné envie d'en apprendre d'avantage. Merci.
Par Twitter
@alexconrad Attended a French Scrum User Group at Microsoft Paris this week. Very good presentation of Neuro Linguistic Programming. Thanks @BrunoSbille
This content is published under the Creative Commons Attribution-Noncommercial-Share Alike 3.0 Unported license.