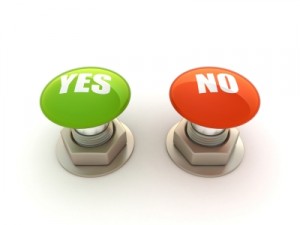 You're facing a problem ? Having some (many) constraints ? Good for you ! You have the opportunity to be creative. Before that there is for sure a mandatory step. Grumble a little bit, Curse the whole world asking him 'Why me" and "Shoot twice in the garbage" .:-) Ok now, calm down and let's go further with this problem.
On my actual project I'm in the "Scope Definition" step. My difficulties are: I have a lot of stakeholders and a lot of input documents. And neither my documents, neither my stakeholders speak the same "language". I mean vocabulary is always different.
E.g for someone a segment is a marketing term to divide the market, for another one segment is a categorization of financial asset. So if i read in a document Segmentation which one is it ?
You can easily imagine how difficult is it to scope the project in those conditions. Sound familiar for some of you guys ?
To fix that I've set up a simple technique that I would like to share with you.
So you will find below how I was able to fix that for a cost of 0,5 man day
Step#0 : Gather input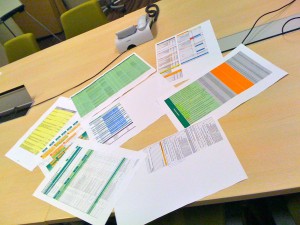 My inputs are a lot of docs: High level Business Requirements, Project Charter, Budget, Planning, Resources Planning, Milestones,…
Step#1: Cutting scope into products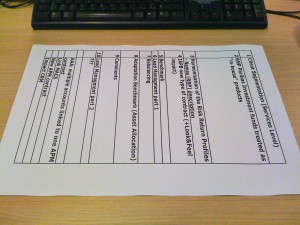 I had already identified 10 potentials products (Prince2 based). Project is planned for two years. Once those 10 products are done, le project is considered as finished. For naming the product, I've tried tu use as much as possible existing vocabulary.
I've also tried to use a Business vocabulary (client oriented) rather than a too technical vocabulary. E.g. I prefer to speak of "client segmentation" rather than link contract X in system Y to export it in XML to Z.
Assure you that you will write in a language that everybody can understand ! English in our case.
Step#2: Cutting the scope… literally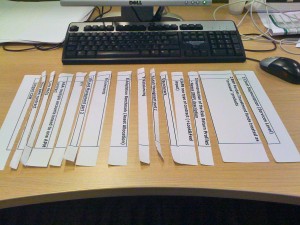 Print all your input documents, use print zoom and A3, A0 big format. The more readiness you have more efficiency you will have. Take all your inputs documents and cut each line, chapters
Step#3: set-up workspace
Find a large room where you will be quiet, e.g A large meeting room, Cafeteria outside lunch hours, a reception desk,… Put all products on the table.
Step#4: Place products and input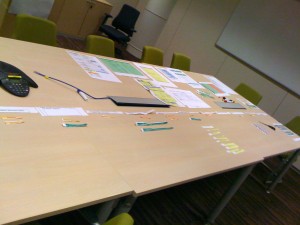 Place all "pieces of products" on the table.
Step#5: Workshop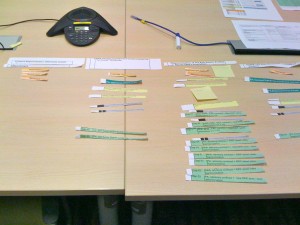 Introduce all different products to your stakeholders, assure you that all product names are understood the same way by everyone.
And now, action ! Ask your stakeholders to place pieces of document (requirement, minestrones,…) beside products. If your participants feel a bit lost at the beginning, it's up to you to support them. You can take the lead and after some times step-back.
Your objective is quiet simple: each piece of document must me linked to one product. If not, then this is out of scope or you need to create an additional product. When you are working the "out of scope" part, it is possible that you will identify interdependencies with others existing projects.
On your workplace, leave a place for interdependencies and out-of-scope.
Once every stakeholder agree on each product, you can move forward to the next step.
At this time we don't discuss timing yet
Step#6: Dependencies
Ask people to identify dependencies between products. Should a product be ready before another one ?
Step#7: Timeline
Put all your products on a virtual timeline, 1st product to be done on the left and the last one on the right.
Etape#8: Go live
If this is already possible, define for each product a "Go Live" date. In our case we had 4 possible go live date a year. So we specified each product a end date.
Etape#9: Consolidation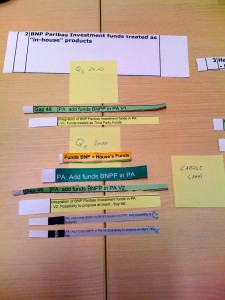 Read together what you have defined, make sure everyone agree. Product naming, timing, content of product,…
Step 10#: Say "cheeeese"
Take pictures, it will be your minutes of meeting… or content for a blog post as well :-)
Depending of the maturity and complexity of your project, you will have to do this exercise several times.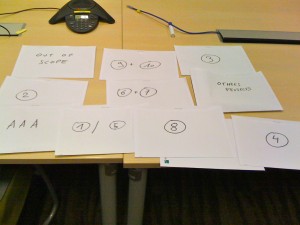 And…this is it !
What do we have now ? A defined Scope with his "out of scope" part. And, gift from the house, if you achieved step 7 and 8, youe have a High Level Planning.
I've discuss this with several people and you can use this technique also for a lot of stuff: Business Modeling, define a menu hierarchy,…
Benefits of this technique:
– Now you have your scope
– You avoid multiple meetings with minutes
– Update a lot of documents
– A way of working to ensure that everyone has understood the same thing
– A very low cost (man/days)
Try this and give me some feedback !
Bye
Bruno
This content is published under the Creative Commons Attribution-Noncommercial-Share Alike 3.0 Unported license.