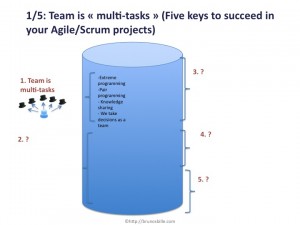 When i initiate a project, i regularly have this question from a team member. "Look, what specifically will be my role on this project ?". And i always answer… "i don't know".
To make your project a success first point to consider is that the team (and so do you) must be "multi-tasks". Indeed, on a Agile or Scrum project , do not expect to have a "job description" with the different actors (developer, analyst ,…) and the various tasks associated with these roles (the developer is responsible for code ,…). No, on a Scrum / Agile project we can summarize pragmatism by: "Project comes first". If the project success requires you go and buy colourful post-it notes in a shop, then you do.
"Usually we don't do this way ?!" Is one of the top 5 i hear while i'm working on a project ;-) According to the latest analysis from Gartner that I read, over 70% of IT projects are unsuccessful, it may be time to change our habits?
The team must be "multi-tasks"
OK but what do we mean by that? It's up to you, as a Coach, Scrum Master, Experienced Team Member, to explain to your team the meaning of "multi-tasking". We could summarize this approach by: during the project you should 1. inspect and 2. adapt, thank you Derek ;-)
Example, as an architect you will need, to study the IT architecture, it is possible that you have first to take the Sherlock Holmes role to find the existing documentation. Another example where no testing tool is used, it's up to you to propose one. OR: the customer is 50km away from you, how to install Skype on the network ?. There will be many different tasks to achieve. We can not guarantee, for example, to a developer that he will only do development and not testingt. Or, to a functional analyst that he/she will not have some technical tasks. This is one of the reasons why, in Scrum, we do use the term "Team Member" and no "developer", "analyst",….
Rather than explain "Why it doesn't work" and "Who is to blame", our approach will be:"What do we have to do to get it done? " And to make it happens, each team member must make all sorts of different tasks. There is here no "good" team member who is multi-task or a bad "team member" who always wants to do the same thing. We speak about honesty and humility. It's up to you as a team leader to explain at the very beginning of the project, what you expect from your team. So, when you recruit your team members if someone tells you "no thanks, I am only writing code nothing more", that's ok. He will go on another project. The organization also needs people who work like that. A more "operational" team is also useful for your company.
Tools
On a IT project being "multi-tasks" is obviously bring Agile techniques or different collaborations methods. Like Xtreme Programming, Lean thinking, pair programming, test driven development, using user stories… Everybody can bring ideas !
In the way the team members interact, we will also provide sharing of knowledge and take decisions as a team. Thinking together is important at this time. Bring all the brains around the table will allow us to have "perspective". For example, we will not use a sexy technology (web service, flex ,…) if we consider that it has no added value for the customer. In this kind of process, it can also be very interesting to mix people with very good knowledge of the project, with people not knowing the project at all.
Multi-tasking in practice, the Sprint #0
In my opinion, , it is best to start with a Sprint #0. In short: you want to do Scrum? Ok start now … I mean NOW. Imagine. You are Scrum Master or project manager, and you must initiate the project. If you already know who will be in your team, even if only 2 people on 9 are available. I suggest you to start in Scrum mode immediately.
You're three? Make at least one daily meeting every day.
You want to organize the move to have offices for your team ? Divide tasks between team members
You want to create the Scrum Board? Create it with the Team
You want to select technology, already put the team in the loop
The faster it will be concrete, the faster your team will become familiar with the method.
A sprint #0 is the ideal method to do all the "initiation" tasks on a project. Like: set-up the team, seat the team together, choose tools, architecture, create product Backlog,…
That's all for the moment.
End of our first episode of our series "Five success factors for your projects Scrum / Agile".
Feel free to give feedback.
Take care.
Bruno.
This content is published under the Creative Commons Attribution-Noncommercial-Share Alike 3.0 Unported license.