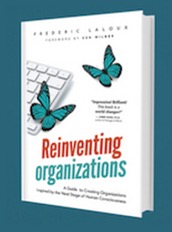 In the Agile community, since last year, we talk more and more about the book "Reinventing Organizations" by Frederic Laloux.
In his book, Frederic speaks of a new way of organizing business. Through Self-management where people can be themselves and by doing something that makes sense.
Sweet Utopia you say? Well not exactly! Everything Frédéric quotes in his book, was observed in real organizations. Without knowing each others, they have established joint mechanisms, going in the same direction. And everything is (very) profitable.
Want to know more? I invite you to look at his conference:
Reinventing Organizations
This content is published under the Creative Commons Attribution-Noncommercial-Share Alike 3.0 Unported license.