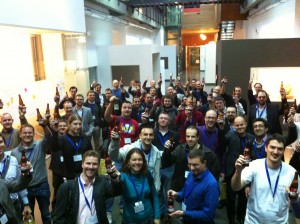 Dears,
The end of 2012 was quite busy and full of excitements… Here are my last news.
The Agile Tour Brussels, was a success we were almost sold-out and we have received plenty of nice feedback from the participants. We will do it again in 2013. If you want to be part of the organization team for 2013, just let me know. Slides of presentation are available on http://atbru.be.
My first Agile Grenoble was a great experience for me. One of the greatest conference of France without any doubt. I especially liked the audience, very mature in my opinion.
Here are the slides:
"Duo de retour d'expérience sauce aigre douce" with Alexis Monville.
"Men In Black Agile" with Alexandre Boutin.
End of november was the occasion to take part of the great conference XPDays Benelux here is my support for:
"Learn different leadership styles with Star Wars Coaches"
Introduction:
Slides:
I was supposed to co-present this session with Martin Mahaux: "Rapid Design: Improvise Your User Stories!" But someone else asked me for some attention … :-)
Whether it is to find your path or to continue your journey, may 2013 be full of accomplishments for you :)
Bruno.
This content is published under the Creative Commons Attribution-Noncommercial-Share Alike 3.0 Unported license.