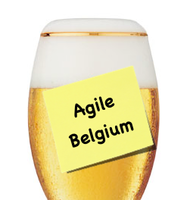 Almost one year ago, Marc Lainez took a very nice initiative for the Belgium Agile Community. He launched the Agile Belgium Drinkup.
What's the Agile Belgium Drinkup ? I will quote what you can read on the invitations:
This is an informal meetup of the Belgian Agile and Lean community. Come after work and meet people you usually only meet at conferences. Anyone interested in Agile or Lean can join.
I've been there a few times and it's really interesting to meet people from different companies, disciplines.
The 30th of May it will be our 1st anniversary. #abdup (official hashtag) will be one year old.
So feel free to join us to celebrate.
You can see the agenda of the drinkup right here. We just ask you to register so we have an idea of how many we will be.
The place is usually there: rue de Tabora 11, 1000 Bruxelles, Belgique.
I also remind you that the official website of the Belgian Agile Community is www.agilebelgium.org.
The next 3 Drinkups are already open for inscription: link is here.
See you there !
Bruno.
If you want to know more:
Genesis of the Agile Drinkup by Nick and the First Agile Belgium Drinkup
This content is published under the Creative Commons Attribution-Noncommercial-Share Alike 3.0 Unported license.