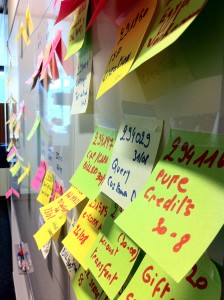 In my early days of Agile I've been quickly intrigued by the Visual Management concept. I knew I liked it, but I did not always knew why. I have a tendency to enjoy the techniques that seems silly at first sight and then reveals to be extremely powerful. So maybe that's why.
So I was working with my client. At the time, they were preparing themselves to implement Agile and at first I helped them to better organize their releases. And what's the best way to do that ? Visual Management of course.
During this period, my client asked me to write something about Agile for a newsletter. I wanted to avoid a classical article and I wanted to do it about Visual Management. I was wondering how I could do it in a visual way and one team member suggest me to do it like a comic.
Well, the result is below… As you can see you can use Visual Management even if you don't do Agile…yet ;-)
Thanks to Inge for the idea, and thanks to Alan, Florence, Benoît and Gregory for acting so well. (Thanks also to the "A-Team" team and to the "Kiwinners" team for not being scared to try all those strange Agile stuff ;-)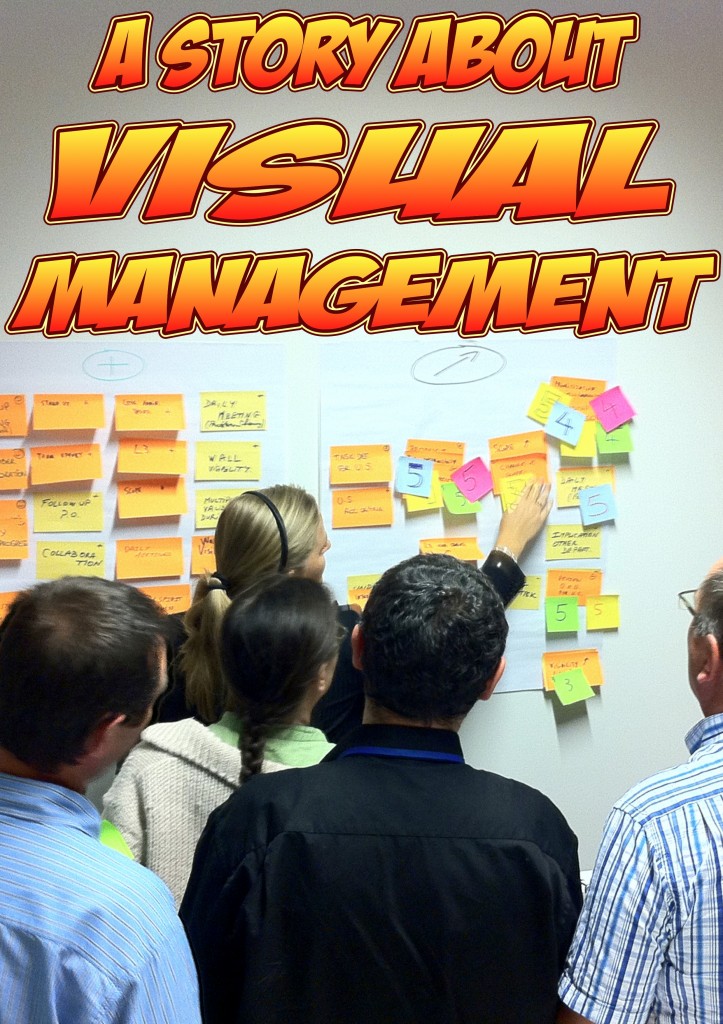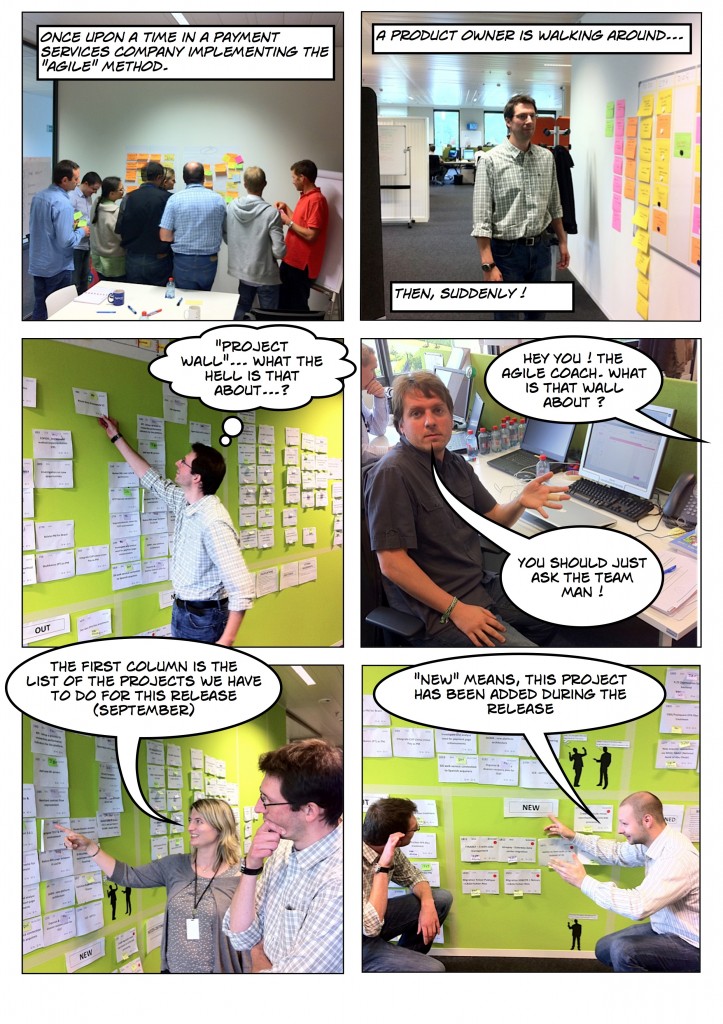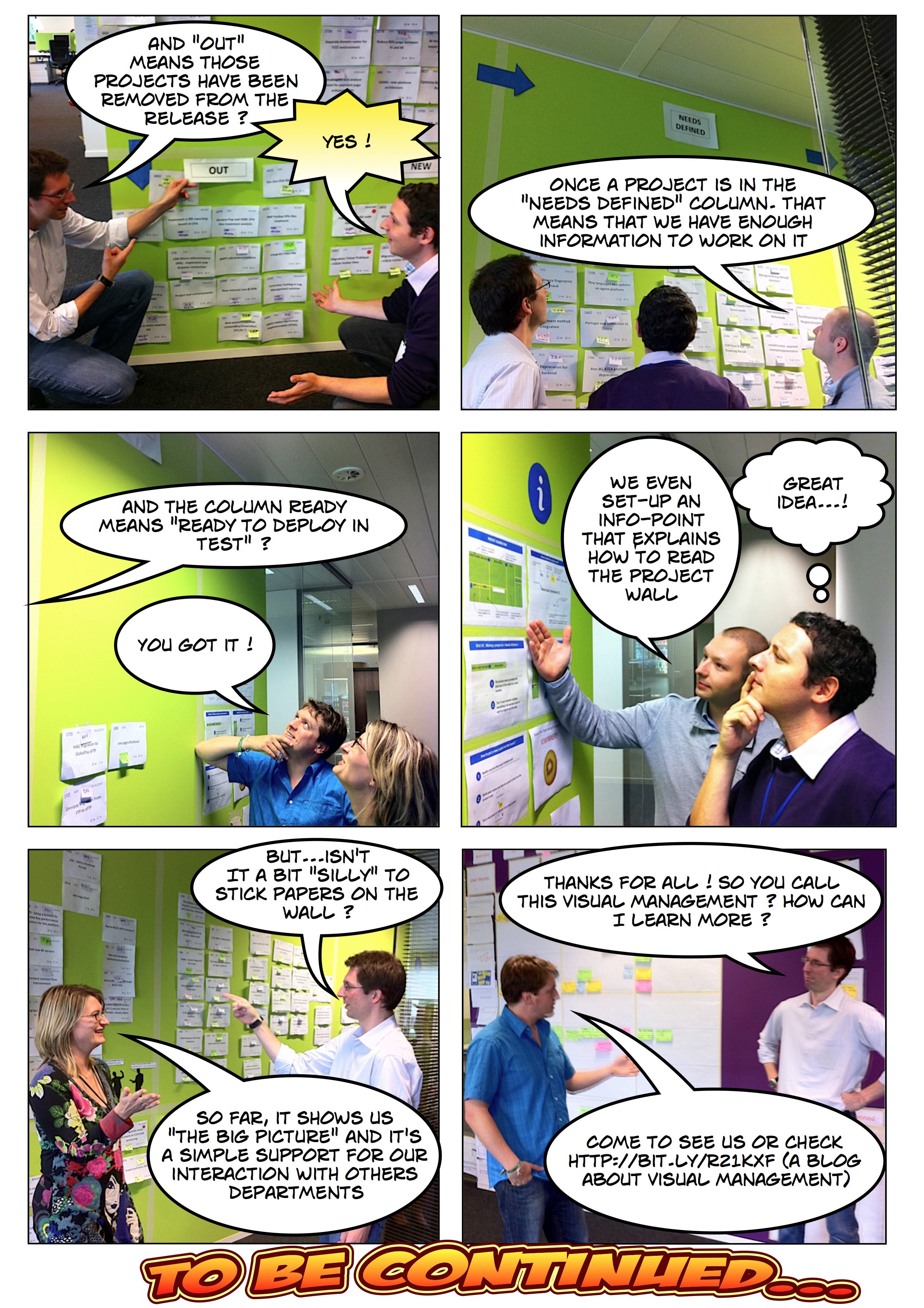 If you don't know Visual Management the concept is quite simple. To communicate, to document, to discuss use a maximum post-it notes, A4 pages, Color markers, and stick the informations on the wall. It seems strange, at first sight, people usually told me "hey I'm not at grade school anymore". But this way of communicating is simple and powerful. It enforce communication and collaboration.
Just try this:
– Organize a meeting using a beamer that project an excel sheet. Ask people to order 20 Lines from this excel sheet.
– Write the 20 things to order on post-it notes stick them on a wall and ask the participants to order them
You will see the "dynamic" of the group is very different.
If you want to know more:
You can read: The Power of a Whiteboard from Kelly Waters.
The link at the end of the comic (how can I learn more) is here.
Kind regards,
Bruno.
Ps: Post written listening Delta Spirit – People C'mon
This content is published under the Creative Commons Attribution-Noncommercial-Share Alike 3.0 Unported license.