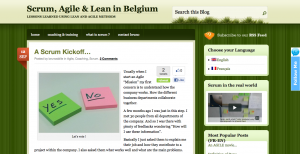 In 2009, I started this blog because I wanted to share my Agile and Scrum experiences.
It's been a few years now and it's time tu use a new WordPress theme. So bye bye "Spring" theme by the449. and hello there BlogoLife 2.0 by wplook.
I try to at least write one post by months, it's not easy because I chose to wrote a bilingual blog. Please don't hesitate to give me feedback on this blog or on the new design ! If you want to write something about Agile methods, feel free to contact me.